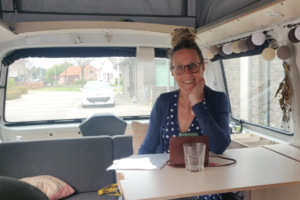 Teachings is Yvonne de Groot's (mobile) practice. She graduated in 1990 as a psychologist in the main fields of Clinical Psychology and Cultural and Religious Psychology.
She has worked as a psychologist:
At the PAAZ and DB of a general hospital in Nijmegen
In women's aid in Nijmegen
In addiction care in North Brabant and in Amsterdam
In a prison in Amsterdam
At the Sheltered Employment Center in the Central Netherlands
In two primary care practices SPEL and PSICONSULTin Zaandam (as an independent entrepreneur)
In Broekpolder Health Center in Heemskerk
Yvonne de Groot is certified and registered as:
Psychologist NIP
GZ psychologist (BIG registration);
She has also completed training as a group psychotherapist, she has completed various body-oriented courses as well as directive therapy training, an EMDR training, a hypnotherapy training, an oncology course at the IKA (Integral Cancer Center Amsterdam), a Cognitive Behavioral Therapy training and the Mindfulness training. In order to further educate herself in Mindfulness, she started an in-depth training in Buddhist psychology in the autumn of 2011 in the tradition of Thich Nhat Hanh.
From 2017 she studied Buddhist psychology with Mind Only (and teacher Cuong Lu). She obtained her diploma in 2021.
From 2022 it is her goal to work flexibly and (mainly) online, hopefully as much as possible from her mobile workplace.